Semester Exchange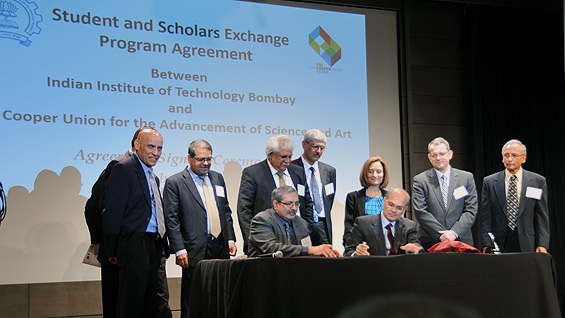 Students should not miss this opportunity to experience another culture and learn at one of the most selective engineering schools in the world, the Indian Institute of Technology Bombay in Mumbai, India, at no additional cost to attending The Cooper Union! Even the airfare will be provided, gratis.
Who: Any student of the Albert Nerken School of Engineering in good academic standing who will be a junior, senior or masters candidate in the 2014 - 2015 academic year can apply.
What: During the 2014 academic year two students will be given free round-trip airfare to study for a semester at the Indian Institute of Technology Bombay in Mumbai, India. The cost of the airfare has been generously donated by Ruyintan (Ron) E. Mehta, a graduate of IIT Bombay. Students can apply for either the fall or spring semester. Courses are taught in english. View a complete list of courses here. At the 2013 announcement of the new semester exchange, President Bharacha called ITT Bombay, "a premier institute for engineering education" and "the most selective engineering school in India."
Where: ITT Bombay is located in Powai, the nothern suburbs of Mumbai, the financial capital of India. It is a fully residential institute, with all its students staying on campus. The students are accommodated in one of 14 hostels with in-house dining and excellent amenities for sports and other recreational facilities.
When: Applications for both the fall 2014 and spring 2015 semesters are due by April 15, 2014. The fall semester study period is July 17th- November 28th, 2014. The spring semester study period is January 5th- May 1st, 2015. (Dates are approximate.) See the detailed academic calendar below.
How: Applications should be emailed to Jennifer Margherito no later than April 15, 2014. Applications must include
Two Letters of Recommendation. One must be from your department head approving your plan of study and nominating you for the exchange program.
A Letter of Intent, detailing why you want to go abroad and what this kind of opportunity would offer your collegiate experience, both academic and career wise
Copy of your passport
Resume/ C.V.
Planned course of study
Cost: You pay The Cooper Union your normal tution and fees. There are no additional tuition or fees to attend IIT Bombay. Airfare is provided. Students will be responsible for paying for their own living expenses and accommodations during the stay. The Cooper Union Global Studies staff will help you work with IIT-Bombay to find affordable and economical accommodations.
Timeline & Academic Calendar
April 15th, 2014- Submit application components by this date
End of April- Notification of acceptance to the semester exchange program, initiating process for visa, meeting with the Associate Dean for arrangements
June- Approval of the visa for your stay in India
Fall Semester
Early-Mid July- Depart for India. Orientation and Fall classes begin Mid-July.
Early to Mid September- Midterm Exams
Mid-End of November- Final Exams
Early December- Winter Break begins
Spring Semester
Early January- Spring classes begin
Mid February- Midterm Exams
Late April- Final Exams
Early May- Summer vacation begins
Health & Insurance
Before you depart for your semester abroad, you must make sure that you are covered by health insurance and alert them to the fact that you will be going abroad. Also for your own health & safety please take note of the latest health information for travelers to India on the CDC Traveller's Health Website