Summer Programs in Architecture: Sustainable Urbanism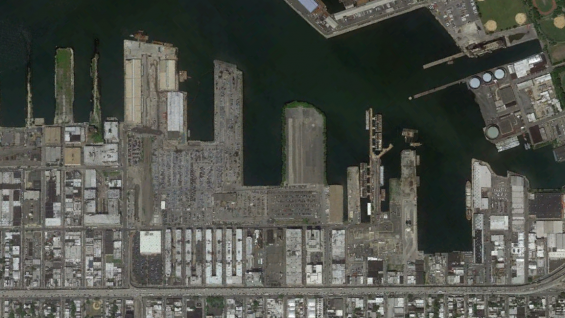 Integrative Studies in Landscape, Architecture and Infrastructure
July 7 - August 1, 2014 | 4-week session, full-time, 4 credits
---
This four week workshop, lead by Kevin Bone, Director of The Cooper Union Institute for Sustainable Design, is conceived of as an advanced professional or graduate level experience in urban architecture and urban design competencies built around a curriculum of integrative studies. All research and design focuses on a site-specific problem in New York City allowing the location in which students study to play an integrative role in the curriculum. In addition to work in the studio, on-site fieldwork will be an essential component to each student's final design project proposal.
The program combines an intensive seminar schedule with a design studio foundation leading to a final class proposal and specific design project. Each morning will begin with seminars and lectures providing a critical immersion into a selected discipline related to the core problem. The afternoons will be devoted to studio work and discussion based on the topics covered during the morning session. Fridays will be reserved for fieldwork and Saturdays for independent research and studio time.
The studio will focus on a section of the South Brooklyn Waterfront: Sunset Park between the Greenwood Cemetery and the Gowanus bay including the Bush Terminals. The site is an assemblage of extreme contrasts from areas of large-scale industrial structures to deserted landscapes and remnants of this transitional urban environment. The site includes vibrant and emerging scenes of start-ups, small-scale manufacturing, expanding residential populations, as well as large areas in ecological transition including waterfront brown fields and tidal wetlands. Lastly, the Gowanus expressway, which severs the waterfront zones from the upland area, is a brutal reminder of the Robert Moses era of automobile based city in New York planning. These geophysical, cultural and historical attributes will inform all levels of investigations.
Establishing constructive forms of exchange between analytical research and design, this course will explore and re-imagine different scenarios for the proposed site and diverse design approaches that can lead to its transformation. Aside from addressing the pertinent socio-cultural and urban themes, the studio offers an opportunity to rethink the role and relationship between landscape, infrastructure and architecture. The challenge will be in undertaking this task while critically appropriating environmental and ecological factors as an integral part of the design process. This implies thinking and designing on a diversity of scales, and taking into consideration an approach where different scales reside in one another.
The program will be lead by faculty of the School of Architecture supported by visiting lecturers and guest critics. Students will be exposed to a diverse group of educators including: architects, landscape architects, environmental planners, engineers, economists, systems thinkers, civic leaders, and scientists in a range of natural science disciplines.
Classes and studios will take place in the historic Foundation Building of The Cooper Union in the heart of New York City. All students will have studio space in which the production, discussion, presentation, and review of the work will take place. All students will have access to the digital studio, which includes all necessary software and hardware, both PC and Mac, output facilities including Laser printers and Plotters, 3d Printer and Lasercutter, and the full shop of The Cooper Union for wood and metal working.
Eligibility

Students from all academic fields and professions are welcome and encouraged to apply. Prospective students should demonstrate an understanding of general sustainability issues as it relates to architecture and design.

Prospective students must have completed 90 college credits or the third year of a design program by the start of the program. They need not be currently enrolled in an academic institution.

Application

Applicants are required to fill out an application form including a statement, no more than 500 words, expressing her/his interest in the program, four images of current work, and one letter of reference. Admission is on a rolling basis; successful applicants will be accepted based on previous academic work and the written statement, as space allows. We recommend that you submit your application as early as possible. Applicants may access the online application here.

Cost and Fees

Program Cost: $4,000: Includes access to computer labs, plotters and printers, fabrication shop, and studios. Students will be responsible for purchasing supplies and printing fees as applicable.

Application Fee: $40*

Successful applicants will be responsible for paying the program cost in full upon acceptance.*

Housing

Housing is not available during the summer sessions through The Cooper Union. Applicants will be responsible for securing other housing options. Please visit here for potential housing options.
• I do not have any architecture experience. Can I participate?
Prospective students are expected to have an educational background in architecture or urban design and should demonstrate an understanding of general sustainability issues as it relates to these disciplines.
• Are there any specific math or engineering skills necessary? What about computer software skills?
Prospective students should be familiar with some of the common computational software used in architecture such as Rhino, Maya, Grasshopper, etc.
• Can I work while attending the program? What if I have to miss a class?
Programs are full-time, 9:30 a.m. to 4:30 p.m. Attendance at class meetings is mandatory and students should expect to spend time outside of class meetings developing their projects. Full participation is necessary to successfully complete the course and earn credit.
• What happens after the program ends?
The Urban Sustainability program will prepare students for further study in the field of sustainability, which can be used towards pursuing a professional or post-professional degree as well as certification.
• I am an international student. May I apply to the Summer Programs?
As of now the 2014 summer session cannot accept international students seeking an I-20 Visa. International students who hold an I-20 Visa from another institution may attend The Cooper Union during the summer. To discuss alternative visa options please contact John Falls
, Assistant Dean of Admissions, at (212)353-4192 or falls@cooper.edu.
• Are scholarships available?
Scholarships and Financial Aid are not available for the Summer Programs at The Cooper Union.
• How do I find housing in New York City?
• What equipment and/or materials will I need to bring?
All accepted students to the Summer Programs are expected to have a personal laptop and will be responsible for basic studio tools and supplies. Students will be provided with a detailed list of required supplies before the first class. There are several art supply stores in the neighborhood that offer student discounts on tools and materials.
Students will be provided with their own individual studio workspace as well as access to facilities such as the computer studio and fabrication shop.
• Can credit from the Summer Programs later be applied towards a bachelor's or master's degree?
The Cooper Union is accredited by the Middle States Association of Colleges and Schools (MSA) and the School of Architecture is accredited by the National Architectural Accrediting Board (NAAB). Students will recieve a transcript for credits earned; credits are transferred at the discretion of the student's home institution or the prospective institution the student is applying to.
---
* Except in cases in which classes are cancelled, all application fees and program costs are non-refundable.