Summer Writing Program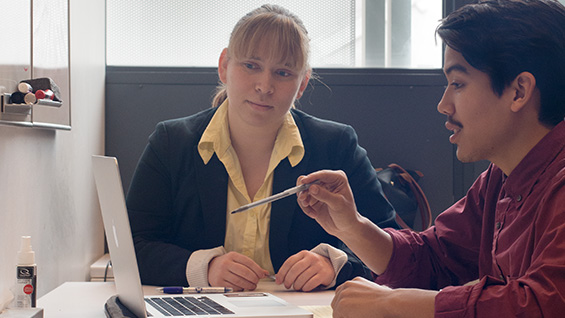 College Writing Is Different from High School Writing— Why Not Get a Jump Start?
This summer, The Cooper Union is offering a unique opportunity to get a head start on one of the most important aspects of your college career: writing and thinking at the college level.
The Cooper Union Summer Writing Program is a three-week course that prepares students for college-level writing by giving them the critical writing and thinking tools they need. It's designed for students attending college in the fall or entering their senior year of high school. The course is offered in two formats: on-campus or online.
| | | |
| --- | --- | --- |
| | | |
Why a Summer Writing Program? When you move from high school to college, expectations change. That's exciting and challenging, but it can also be intimidating. In college writing courses, old formulas no longer apply, and it's not enough to show that you understand the basic events or ideas in a text. You need to write analytically, to develop an argument and support it with close reading. When asked to write in a new way, even the most accomplished high school writers can struggle, and less confident writers can feel overwhelmed. But when you have the necessary skills and approaches, these challenges can be exhilarating, not daunting. The Cooper Union Summer Writing Program's expert approach to writing and thinking provides those tools.
How It Works The only way to learn to write more effectively is to learn new approaches, practice them, and receive feedback. Our classes provide a rigorous and supportive environment that makes this possible: both the live and online classes utilize a workshop format that features a mix of lecture, discussion, and hands-on reading and writing work. Classes are kept small so every student receives extensive ongoing individual attention. Online classes use web conferencing technology to create a real-time virtual classroom that gives students the opportunity for hands-on work and immediate feedback.
What You'll Learn
How to approach challenging texts with confidence
How to use writing to generate and develop ideas
How to move past the five-paragraph essay
How to develop arguments and support them with evidence
How to write more clearly and effectively
Cooper Union's Unique Approach The Summer Writing Program is modeled on the unique work we do at Cooper Union. Designed for students with a range of learning styles, our approaches are effective for students across all interests and potential majors.
| | | |
| --- | --- | --- |
| | On Campus | Online |
| Start / End Dates | July 6 - July 23, 2015 | July 6 - July 23, 2015 |
| Weekly | Mondays to Thursdays | Mondays to Thursdays |
| Daily Schedule | Four hours: two in the morning and two in the afternoon* | Real-time class meets 2-4 EDT |
| Location | 41 Cooper Square | Anywhere |
| Class Size | Maximum of 12 students | Maximum of 10 students |
| Instruction | Experienced college instructors | Experienced college instructors |
| Tuition | $2500 | $1400 |
| Deposit of $500 | Due June 1 | Due June 1 |
| Full Payment** | Due June 15 | Due June 15 |
* Classes meet for two hours in the morning and two in the afternoon, with an hour lunch break. Typical schedules are 10:00-12:00/1:00-3:00 or 11:00-1:00/2:00-4:00.
**Pay in full by June 1st to receive a 10% tuition reduction.
To sign up see the registration and payment page.
Questions? See the FAQ or write to summerwritingprogram@cooper.edu or call 212.353.4018