Monica Vachher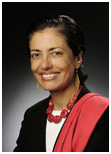 Monica Vachher is an investment banker and securities lawyer, with a passion for education, international development and human rights. She is the co-founder of a college advisory firm, Higher Education Advisors, LLC. Previously, Ms. Vachher managed the Structured Finance Group at UBS Securities, and was a Managing Director at Bear, Stearns & Co. She was a founding member of Financial Security Assurance, a financial guarantee firm in NY, and a securities lawyer at Kutak, Rock & Campbell, in Washington, DC.
Ms. Vachher is a Director of IES Abroad, a premier international college study organization, co-chair of the Board's Governance Committee, and a former Vice Chair and member of the Executive Committee of the Board. She is a Trustee of the Free Library Foundation of Philadelphia and Chair of its Marketing Committee, and a Director and member of the Executive Committee of Nest, an NGO working with artisans in the developing world.
Ms. Vachher served for 12 years on the board of CARE, the international NGO, where she was a member of the Executive Committee and chaired the Board's Management Committee and Executive Compensation Committee. She also served as Chair of the Board's Nominations and Governance, and Audit Committees. Ms. Vachher was a long-standing Trustee of Vassar College, serving on the Board's Executive Committee and Presidential Search Committee, and as Chair of the Academic Affairs, Budget and Finance, and Investor Relations Committees. She was also a Trustee of the Latin School of Chicago and the International House at the University of Chicago, and a director of Literacy Chicago, an adult literacy organization. Ms. Vachher served on President Clinton's transition team, and as a Presidential appointee on the Board of a USAID investment fund for Central Asia, one of a series of funds established to promote democracy and economic stability in formerly Communist countries. Ms. Vachher helped found the US Committee for UNHCR, the UN Refugee Agency, and was a pro bono attorney with the Human Rights Law Group in Washington, DC.
Member of The Cooper Union Board since 2013

Term Ends: 2017