Edgar Mokuvos (EE'78)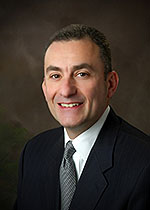 Edgar Mokuvos founded Kasaken Capital in 2004. Since that time he has been an active principal investor in various micro-cap companies.
Prior to Kasaken Capital, Mr. Mokuvos started his career and spent 21 years with Accenture, the global management consulting, technology services and outsourcing company. During this time he worked in many hands-on and leadership roles assisting companies in business and technology strategy, organizational transformations, outsourcing, large program management, and technology implementation.

Mr. Mokuvos was a senior partner in Accenture's Capital Markets Group. He was responsible for the firm's relationship with a number of the world's leading Wall Street firms, banks and investment management companies. In this role he was responsible for several multi-year, multi-million dollar initiatives and advised C-level executives in successfully achieving company goals.

In 2002, Mr. Mokuvos joined Bank of America where he was the Chief Information Officer for the Asset Management Group. He led the technology group supporting the private bank, retail brokerage and investment management businesses. He was responsible for a $200 million annual budget and a professional staff of over 300.

Mr. Mokuvos has been active in various philanthropic and community organizations. He served as a member of the Summit, NJ Board of Education and was a trustee and Vice-Chairman of the Summit Area YMCA and headed its Finance Committee.   Mr. Mokuvos was a certified EMT and served on the board of the Summit Volunteer First Aid Squad.  He is currently an auxiliary police lieutenant in the Summit Police Department.  While at Accenture, Mr. Mokuvos was active in Accenture's Minority Mentoring program, advising minority professionals about career planning and other issues. He also served on the America's Diversity Committee, whose mission was to create an inclusive culture for minorities and women.

Mr. Mokuvos was born in Uruguay and immigrated to the United States at the age of four. He has a Bachelor of Engineering degree in Electrical Engineering from The Cooper Union and a Master of Science degree from Carnegie Mellon University.
Alumni Trustee Elected in 2012
Term Ends: 2016