Charitable Remainder Trusts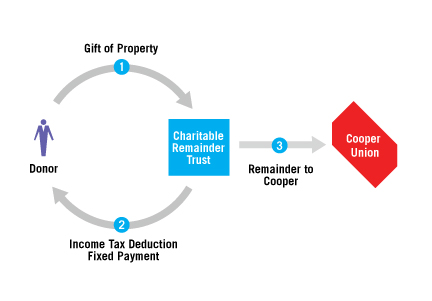 How it works
You transfer cash, securities, or other property to a trust.
You receive an income tax deduction and pay no capital gains tax on transfer to trust. During its term, the trust pays a fixed amount or percentage each year to you or to anyone you name.
When the trust ends, its remaining principal passes to Cooper.
The trust can be tailored to meet your needs and objectives, such as generating higher income from assets you currently own, building increased retirement income, or providing financial security for your loved ones.
Your Benefits
Some of the benefits of Charitable Remainder Trusts may include:
Using cash, appreciated securities, or other assets to fund the Trust
Potentially increasing income
Income tax deduction for the ultimate gift to The Cooper Union
Reducing capital gains taxes if appreciated assets are used to fund the Trust
Maximum flexibility for the donor with respect to:

Income recipients - the donor, and/or family members or friends
Time period of the trust - for someone's lifetime or for a specified number of years (not exceding 20 years)
Level of income - donor chooses payout rate
Type of income - fixed or variable
Retirement planning
Providing income to others such as parents or children
Making a significant difference to The Cooper Union
To learn more about how a charitable remainder trust could work in your particular case, or for gift planning ideas tailored to your personal situation, please contact Donna Lippman, Director of Planned Giving, at 212.353.4172 or dlippman@cooper.edu. There is no fee or obligation for this service.
The information contained herein is not intended as legal or tax advice. We recommend that you consult with your attorney or financial advisor for questions concerning your individual situation.