Charitable Lead Trusts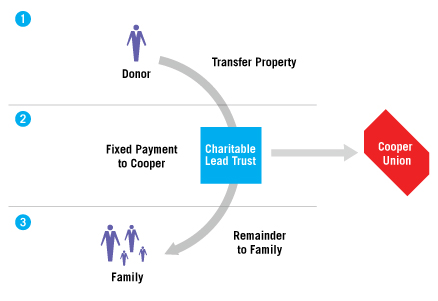 How it Works
You transfer cash, securities, or other property to a trust. You receive an immediate charitable income tax deduction.
During its terms, the trust pays a fixed amount each year to Cooper Union.
When the trust ends, its remaining principal passes to your family or other heirs you name. Trust growth passes to them tax-free.
This intergenerational wealth-transfer tool enables you to provide for your heirs – and for The Cooper Union – while sharply reducing gift or estate taxes. Because The Cooper Union benefits first, the trust assets can go to your heirs later at a reduced gift or estate tax cost.
For more information about charitable lead trusts, please contact Donna Lippman, Director of Planned Giving, at (212) 353-4172 or dlippman@cooper.edu.
The information contained herein is not intended as legal or tax advice. We recommend that you consult with your attorney or financial advisor for questions concerning your individual situation.