Jamshed Bharucha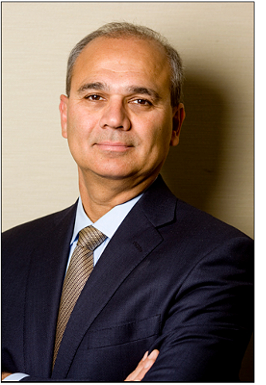 Jamshed Bharucha is the twelfth President of The Cooper Union for the Advancement of Science and Art. Prior to this position, which commenced on July 1, 2011, he served in academic leadership positions at Dartmouth College and Tufts University.
A cognitive neuroscientist, he has published extensively on the cognitive and neural underpinnings of music (using a variety of methods including perceptual experiments, computational neural net models and MRI brain scanning), has been awarded grants from NSF and NIH for his work, and has served as Editor of the interdisciplinary journal Music Perception. More recently, he has written and lectured widely on the challenges facing higher education, emphasizing the need for bold innovations in learning and global engagement.
A 1978 Phi Beta Kappa graduate of Vassar College, where he majored in biopsychology, President Bharucha received an M.A. in philosophy from Yale University (1979) and a Ph.D. in cognitive psychology from Harvard University (1983).
He was a Fellow at the Center for Advanced Study in the Behavioral Sciences at Stanford University in 1993-94, and currently is an Honorary Fellow of the Foreign Policy Association. He serves as a Trustee of the Commission on Independent Colleges and Universities, a statewide association for more than 100 private higher education institutions throughout New York, and as a member of the Council of Presidents of the Association of Governing Boards of Universities and Colleges. He received the Distinguished Achievement Award from the Alumnae & Alumni of Vassar College, and has served as a Trustee of Vassar College, where he chairs the Academic Affairs Committee.
President Bharucha began his academic career at Dartmouth College, where he was named the John Wentworth Professor of Psychological and Brain Sciences and served in several leadership positions, including Associate Dean, Deputy Provost and Dean of the Faculty of Arts & Sciences. At Dartmouth he received the Huntington Teaching Award in 1987 and the Undergraduate Teaching Initiative Award in 2002, and taught in several interdisciplinary programs, including Linguistics & Cognitive Science, Cognitive Neuroscience, and Electro-Acoustic Music. A signature accomplishment of his administrative work at Dartmouth was the creation of the nation's first brain imaging facility for the study of cognitive neuroscience outside of a clinical setting.
In 2002, Bharucha was appointed Provost and Senior Vice President of Tufts University, where he also held appointments as Professor in the Departments of Psychology, Music and Neuroscience. Under his leadership as Provost, annual sponsored research at Tufts doubled to $175 million, and revenues from the transfer of technology increased eight-fold to $8 million. He launched the Summer Scholars program, which provides summer research opportunities for undergraduate students, and the University Seminar, a course that brings together faculty and students from multiple schools to focus on issues of societal importance. He strengthened the Ph.D. programs through the Provost's Fellows program and the Graduate Competitiveness Initiative, and spurred innovation and collaboration through two competitive seed-fund programs: Tufts Innovates! and Tufts Collaborates! He elevated the role of education for global leadership and public service, and led the university's strategic engagement with Mexico, India and China.
President Bharucha is a classically trained violinist, having received an Associate's Diploma in Violin Performance from the Trinity College of Music, London, in 1973.