Visit Cooper Union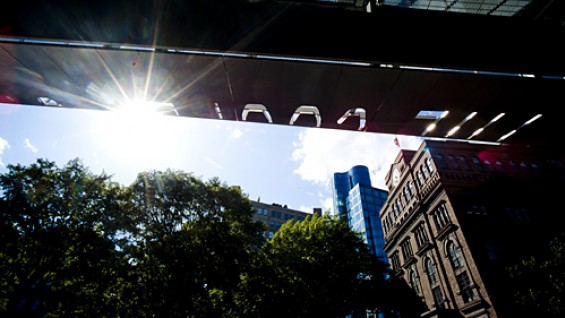 Please note: The Offices of Admissions, Records and Registrar, and Financial Aid, are currently located on the 6th floor of 30 Cooper Square.
Our summer schedule will be in effect from Monday, June 9, through Friday, August 29, 2014. During this period, Cooper's business hours will be Monday through Thursday from 9:00 a.m. to 5:15 p.m. Regular business hours resume on Tuesday, September 2, 2014.
The School of Architecture hosts small group tours during the school year, from September through April. Pre-registration is required for these tours. Please contact The School of Architecture Office at (212) 353-4220 or architecture@cooper.edu for further information.
The Cooper Union actively participates in events sponsored by The National Portfolio Day Association across the US and Canada. You can view a list of the events Cooper Union representatives will attend for 2014-2015 here.
The School of Art also hosts portfolio review days in the fall. These open houses are the best time to visit the School of Art. This year's dates will be November 7th, 14th, and 21st, and December 5th.* Registration and more information about portfolio review on Cooper's campus will be posted in early fall.
* Sabbath observers may request an alternate review time..
The School of Art will be offering tours of the facilities on Monday and Friday afternoons this fall. Tours are strictly capped at 10 people. Registration required.
We welcome you to visit our events and exhibitions as well, which are open to the public unless otherwise specified.
The School of Engineering hosts small tours for prospective engineering students and their families. Registration is required. For information and to register, please visit the engineering tour calendar. Fall semester tours will begin in late September.
Teachers and counselors who would like to arrange a small group tour for students seriously interested in engineering may email Abby Davis at adavis@cooper.edu.
If you have any questions about the application process or to register for the tours, please e-mail admissions@cooper.edu.